our services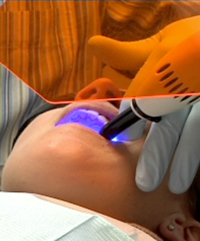 We provide many services including:
•root canals
•crowns
•bridges
•extractions
•fabrication of full and partial dentures
•restorations (fillings)
•bleaching
•fabrication of sports mouth guards
•implants
•laser technology
•veneers

We also work with patients who have gum disease. Our hygienists, in co-ordination with the dentist, will provide advice on how to maintain healthy gums through visits determined by the patients' individual needs. We have a lab technician who works closely with our office to repair dentures and make mouth guards for bleaching as well as for sports.
We also have an orthodontist and paedodontist (doctor who delivers braces as well as looks after children's dentistry) who visits our office on select Saturdays throughout the year.
Other procedures that require a specialist's attention, are referred to a variety of trusted and reliable specialists outside the office.
The office is equipped with the latest in digital technology. We also have intra oral cameras in each treatment room.
Our office offers laser technology that is used for various procedures including speeding the treatment of cold sores and cankers – otherwise known as Aphthous Ulcers.
Each treatment room has televisions. We offer slippers at the door, blankets if the patient is cold, pictures in the "No Cavity Club" for kids who have no decay as well as all kinds of take home prizes for visiting the dentist. We always follow up with phone calls when the patients have a problem to ensure that the issue has been resolved and that the patient is comfortable. Appropriate medication is carefully prescribed to sedate patients if necessary.