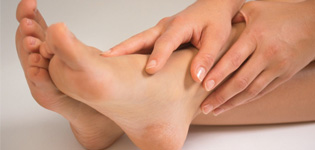 Welcome to Family Foot and Ankle Clinic, LLC
Americans spend a great deal of time on their feet. As the Nation becomes more active across all age groups, the need for foot care will become increasingly important.
The human foot is a complex structure. It contains 28 bones—plus muscles, nerves, ligaments, and blood vessels—and is designed for balance and mobility. The 56 bones in the feet make up about one-fourth of all the bones in the human body. Podiatrists, also known as doctors of podiatric medicine (DPMs), diagnose and treat disorders, diseases, and injuries of the foot and lower leg.
Podiatrists treat corns, calluses, ingrown toenails, bunions, heel spurs, and arch problems; ankle and foot injuries, deformities, and infections; and foot complaints associated with diabetes and other diseases. To treat these problems, podiatrists prescribe drugs and physical therapy, set fractures, and perform surgery. They also fit corrective shoe inserts called orthotics, design plaster casts and strappings to correct deformities, and design custom-made shoes.
To diagnose a foot problem, podiatrists also order x rays and laboratory tests. The foot may be the first area to show signs of serious conditions such as arthritis, diabetes, and heart disease. For example, patients with diabetes are prone to foot ulcers and infections because of poor circulation. Podiatrists consult with and refer patients to other health practitioners when they detect symptoms of these disorders.
Contact Info
2405 Schofield Ave Suite 110
Weston, WI 54476
Phone:(715) 241-8100
Fax:(715) 241-8102
Hours: 8:30-4:30 M-F

117 Main Street
Marathon, WI 54448
Phone:(715) 443-3300
Hours: 8:30-4:30 W