Meet Our Staff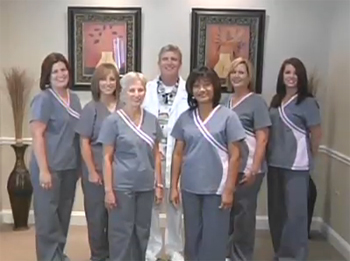 Dr. Brock Miller was born and raised in a small town in northern Wisconsin. He moved to Montgomery in 1993, being assigned to Maxwell AFB, as a member of the USAF Dental Corps. He graduated from the University of Wisconsin ? Madison while on a full USAF Reserve Officer Training Program scholarship, (B.A. in Psychology), and received in Doctorate of Dental Surgery (D.D.S.) in 1978 from Marquette University in Milwaukee.
Following three years at Aviano Air Base, Italy, he was selected for a two year Restorative Dentistry Program at the University of Michigan, graduating with a Masters Degree in 1983. In 1988 he challenged the grueling Federal Services Board for General Dentistry. Following the difficult two days of oral and didactic examination, covering all phases of dentistry, he was elevated to being a Diplomate of the board.
Dr. Miller, while in the USAF, functioned as a specialist in most of the clinics he served in. He performed the majority of difficult cases involving root canals, full mouth reconstruction, crown and bridge, and periodontics at those bases.
A recipient of many USAF awards, Dr. Miller retired from the Air Force as a full Colonel in 1999 and opened Autauga Station Dental.
Renee Hawthorne: Renee helped Dr. Miller open Autauga Station Dental in March of 1999, as his first employee. He soon recognized her talents. Before long she was fulfilling dual roles as receptionist and assistant. Her enthusiasm, expertise, and intelligence led her to enter the Alabama Dental Hygiene Program at UAB, graduating in 2001. Her patients all love her for her expertise, wit, and charm.
Mimi Morris: Mimi is our office manager. She started with us in June of 1999 as a receptionist. Her role led to helping in the clinic wherever needed. Soon after, she was encouraged to attend the Alabama Dental Hygiene Program graduating in 2002. We really depend on her loyalty & flexibility to fill in where needed!
Kathy Roeder: Kathy is a graduate of Monroe in New York. Her skill as a hygienist is of the highest and her wisdom has led to many improvements in patient care in our clinic. Her patients love her tender and loving care. We value her talents and wisdom.
Barbie Cottles: Barbie is originally from North Alabama and has been labeled the periodontal expert at this office. She is also known for her cheery smile and infectious enthusiasm. She does a great job at dental hygiene and soon has people happy to be at the dentist!
Nellie Foreman: Nellie is a special person. She may look shy and unassuming but she has courage and fortitude. How else can you explain someone leaving everything, family and friends, to live for seven years in Hong Kong? Pursuing other challenges, she moved to British Columbia, before getting married and coming to Alabama. She is the clinic queen of shade selection and gives us and her patients 110%!
Jennifer DeLoach: Jennifer is the only true Prattville native on our team. Her charming personality makes people feel warm and welcome. She is an expert at all phases of chair side assisting and, in addition, is also a licensed dental hygienist.
Lacey Davies: Lacey is our receptionist, usually the first one you talk to. Lacey will help you get the most out of your insurance benefits, discuss payment options, and hold your baby! Her personality and uplifting humor will help make you feel at home.