Unique Treatments
One of the reasons I love being a Prosthodontist is the chance to make a difference in someone's life. Often that involves working with other colleagues. This can includes general dentists, periodontists, endodontists, orthodontists, pediatric dentists, and TMJ specialists in the dental community.

Once in a while I have the privilege of working with others such as plastic surgeons, speech therapists, ENT surgeons, infectious disease specialists, veterinarians, cleft palate team and other medical specialists.

I would like to share with you a couple of interesting and challenging cases.
Case 1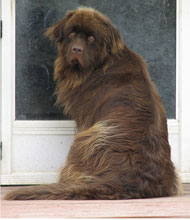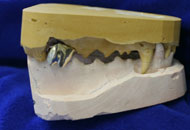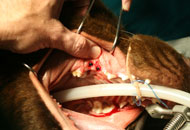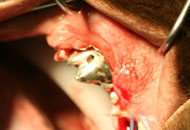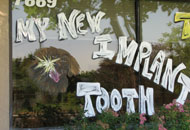 My Newfoundland dog, Chairoi, was 6mos old when his upper right "4th premolar" (big chewing tooth) abscessed, and the veterinarian had to section the tooth to extract it. Since Chairoi was my "youngest " I wanted to be a good "mom" and consulted with an oral surgeon and the vets involved with the extraction of the tooth. We concluded after researching the possibilities that we could place two implants and restored them with a gold crown. After six months of healing time for the extracted area, two 5.0mm tapered groovy implants were placed. The implants were left covered for six months to allow for proper integration of the bone and implant. A gold crown was fabricated and screwed into place. Chairoi has proudly sported his gold crown since May 2007 and even tolerates "mom" keeping up his oral hygiene using an electric toothbrush. He loves to go see his oral surgeon and vets for his yearly checkups.
Case 2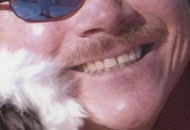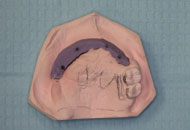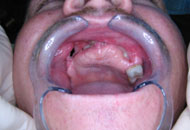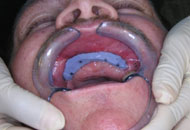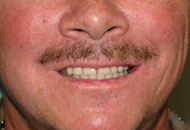 A gentleman in his 40's contracted a very rare yeast infection called MUCOR MUCOSIS. He is a severe diabetic under a lot of stress His general dentist realized very quickly that all was not well with the patient's palate (roof of the mouth) and referred him to an oral surgeon. A biopsy confirmed the rare disease which has an extremely high mortality rate. A team consisting of the oral surgeon, an ENT doctor and an infectious disease specialist quickly operated to remove all the dead bone and most of his upper teeth. They then placed him on the appropriate antibiotics. Several operations were required to save his life. I was excited to be asked to attempt to restore him with a prosthesis. I fabricated a removable partial denture-obturator and left room for anticipated implants.
Case 3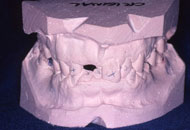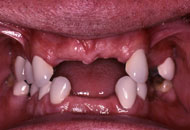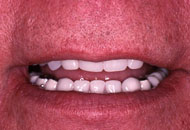 A gentleman in his fifties was referred to me from the Veterans Administration Medical Center. He had such extreme wear on his remaining teeth that they asked for help in restoring him. Because of a dependency on what restorations VAMC allows, I had some restrictions on what I could do. Diagnostic impressions were made, a wax up completed and a splint was fabricated for him to wear for a period of time to determine if he could comfortably adapt to the new proposed vertical opening. The oral surgeon extracted unrestorable teeth, buildups were completed, crowns seated and partial removable dentures were fabricated. The patient was very happy with the results, especially given the restrictions we were dealing with.
Case 4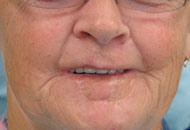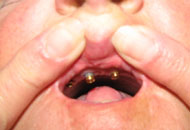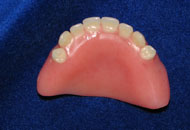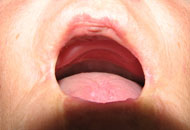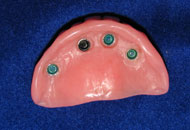 A woman in her sixties came to me with a severely decayed maxillary bridge. The bridge was not restorable and the teeth needed to be extracted. The ICAT scan showed that implant placement would require a large amount of bone grafting. The biggest challenge was that she had a very limited ability to open her mouth due to a childhood accident. The oral surgeon was confident with a lip releasing incision he could extract the teeth, place the bone graft material and place four locator implants and four temporary implants. We needed the temporary implants to hopefully hold a mini temporary denture. I worked with the dental lab using the models and "custom tray" from ten years ago when I met her and fabricated the bridge. We were able to construct a temp bridge that was placed immediately after the implants were placed. After six months of integration of the bone to the locator implants I fabricated a half denture that she could insert and remove easily using only 3 of the 4 implants with the retentive blue sleeves. The final result was beyond all of our expectations. She is currently enjoying many of the foods she has not been able to eat for a long time!