About Arket Electric
Trustworthy. Reliable. Proficient.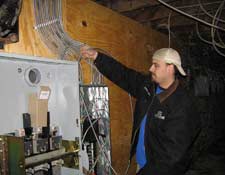 With over 25 years of experience, Arket Electric fulfills your electrical needs. We are a fully insured and licensed electrical contracting company, for residential and commercial customers.
From apartment complexes to business complexes, each day we help maintain power to thousands of customers, whether it's providing initial wiring, replacing a circuit breaker or repairing a generator.
We are committed to exceeding your expectations with our excellence in quality, value and performance.
We're also a full sales, service and warranty dealer of Briggs & Stratton and Guardian brand home standby generators.
Locally owned & operated, we service the entire Capital District and surrounding areas. At Arket Electric, we pride ourselves on our products and services.
Because the environment is so important, we've partnered with Renewable Power Systems. Together we install Solar Photo Voltaic Systems, which use solar panels to harness a green renewable energy, allowing you to utilize the power of the sun and to save money on your energy bills.
Experience the power of security. Experience the power of Arket Electric.