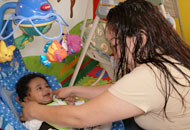 Giving back to the community is an ideal that many people aspire to. When a community helps a person get on their feet and make a life for themselves, it's natural to want to thank the people behind the support. That's exactly how Blanca Flores and her daughter, Brissa felt after coming to this country and settling in Waukegan, Illinois. Ms. Flores wanted to provide for the young children in the community by providing an important and vital service to working parents and so, Children's Garden Daycare was born.

Ms. Flores and her daughter both agreed that the kind of daycare they would provide would be of the variety that would make parents feel good about who was watching their children and how they were being treated. With that principle in mind, the Children's Garden began to grow and soon, the quality of care created a reputation that has replenished and 'watered' the 'Garden' to this very day.

Today, Children's Garden Daycare caters to a bi-lingual community that accepts newcomers with open arms. Mr. Flores and her daughter feel proud to be part of the goodness being instilled in the young children they care for because they know these kids will grow up to be positive contributors to their community.